Stained Glass Artist in Granger, IN
Since 2002, Don's Custom Stained Glass has been your local family-owned and operated stained glass maker, proudly serving Granger, South Bend, Mishawaka, Roseland, Edwardsburg, Georgetown, and South Bend, IN and the surrounding areas with beautiful, customized stained glass windows and art pieces. With over 40 years of experience, we have the knowledge and expertise to create the stained glass patterns you've been looking for.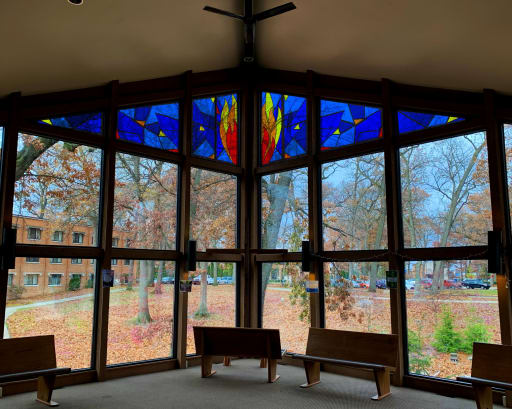 My work installed at Bethel University
Etched Glass & Much More

Whether you own a home, run a business or help operate a church, there's one design flourish that can add beauty, whimsy, elegance and originality to your home, storefront or house of worship. That flourish is stained glass, and in Granger, IN, stained glass work is synonymous with Don's Custom Stained Glass. With over 40 years in stained glass, we can make any special vision a reality, and we have the church windows, room dividers, inset door windows, lamps, kitchen cabinets and hanging art to prove it. Whatever you want embellished, we can help make sure it's pristine and high quality with our etched glass services. Contact us to learn more!
When you hire Don as a stained glass artist to design and create stained glass windows in Granger, IN, we take the time to listen to what you want, and design your piece based on your ideas and needs. Our team of professionals will work tirelessly to ensure you're pleased with the end result, and that it fits perfectly in your home, business or church. So if you want your stained glass work to be as clean, well-designed and elegant as possible, we hope you'll trust Don's Custom Stained Glass. Here are just a few reasons to do business with our etched glass experts:
We are a locally owned and operated small business in Granger, IN.
Our owner has over 40 years of experience working with stained glass.
We take the time to listen to our customers, and will design the glass based on your ideas.
We can provide a wide range of stained glass windows and other items for homes, businesses and churches, as well as repair services.
Our prices are reasonable for the quality of work we provide.
Service Areas
Elkhart, IN
Mishawaka, IN
Osceola, IN
Roseland, IN
South Bend, IN
Adamsville, MI
Buchanan, MI
Edwardsburg, MI
Niles, MI
Union, MI